Call Forwarding
Lineblocs editor allows you to create call flows for basic and advanced call forwarding needs.
In this guide we will show you how to forward a call to a external phone number using the Lineblocs flow editor.
Requirements
You will need the following to start forwarding calls using lineblocs:
a DID Number
Lineblocs account
Creating call forward
In Lineblocs dashboard click "Create" -> "New Flow"
Enter a name for your flow
Select "Call Forward" template
Click "Create"
Edit call forwarding number
To change the number you want to forward to please click the "ForwardBridge" then update the "Number To Call" option.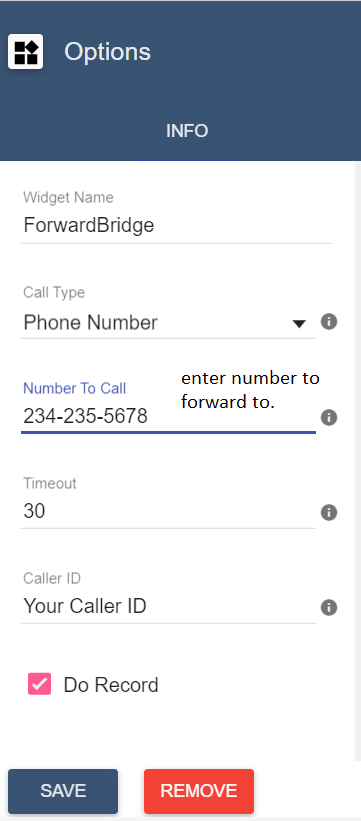 Change Caller ID
By default the caller ID will show the caller's caller ID. If you want to use a custom caller ID instead you can change the "Caller ID" option.

Record Forwarded Calls
To record your forwarded calls please check the "Do Record" option.

Using the flow on a DID number
To save all your changes please click

in the flow editor.
To use your call flow on a DID Number:
In the lineblocs dashboard please click DID Numbers -> My Numbers
Click the "Edit" button next to your number
Update the "Attached Flow" field
click "Save"
Testing the flow
Your calls should be now forwarded to the number you specified along with the Caller ID you set.
Next Steps
In this guide we discussed setting up a simple call forward. for more advanced configurations please see guides below: